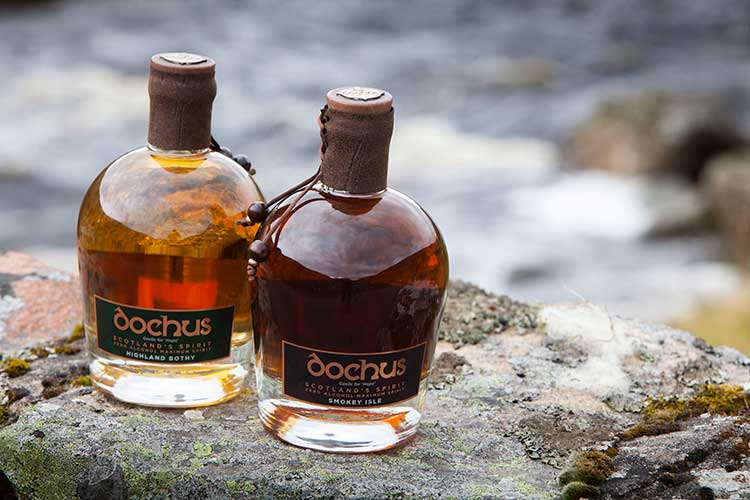 A Scottish no-ABV drinks manufacturer has unveiled its new non-alcoholic dark spirit as it set out plans to grow its distribution in the UK and overseas.
Spirits of Virtue's latest brand Dochus, gaelic for 'Hope', has been created to offer a premium drinking experience for those seeking a non-alcoholic dark spirit alternative.
Blended and bottled in Scotland, Dochus is described as 'third-generation' product, using an advanced extraction process to derive the character of alcohol from aged wooden casks to create an authentic nose and mouthfeel.
To mark its launch, 100 limited-edition bottles of each edition have been released, along with a range of sober serves to inspire those taking part in Sober October.
Following launch, the company plans to grow sales both domestically and in key international markets, specifically UAE and Saudi Arabia, following positive feedback from buyers.
Spirits of Virtue was established in April 2018 by brothers Roddy Nicoll and Kerr Nicoll, focused on delivering premium non-alcoholic spirit brands to those looking for maximum taste and zero alcohol.
The release of NoSinGin marked the company's entry into the no and low alcohol market – a product that provided the taste sensation of a small batch gin, but with none of the alcohol.
Listed by Ocado shortly after its release, the company was named as 'Britain's Next Top Supplier' by the online grocer in 2018. Now available in three different varieties, NoSinGin's early success has led to the company supplying the private label sector.
With a now ten strong team, spanning management and production, Spirits of Virtue has increased its production capabilities to deliver a capacity of 60,000 bottles per week, and plans to add to its portfolio of brands later this year to meet growing market demand for low and no alcohol products.
Roddy Nicoll, managing director, Spirits of Virtue, said:
"Our whole ethos is around creating non-alcoholic spirits that provide the sense of occasion consumers expect from a premium spirit, from the moment they pick up the bottle.
"Dochus is no exception. We like to say its been 50 years in the making, as it is crafted from spring water which has percolated through the granite mountains of the Cairngorms over that period of time.
"We firmly believe the quality and provenance of our ingredients, combined with our production methods, deliver a mouth feel and taste superior to any alternative non-alcoholic dark spirit.
"Our vision is to accelerate the evolution of the non-alcoholic spirits market, using what we coin as 'inventive alchemy' to produce something we believe sets us apart. With no sugar and no artificial colours, flavours or allergens, we're also offering a premium taste alternative for the health conscious.
"The opportunities for growth are massive, and we've been bowled over by the response to NoSinGin, and the reaction to Dochus from buyers both at home and overseas. As well as focusing on exports, we're also looking at on-trade opportunities as the market continues to expand."