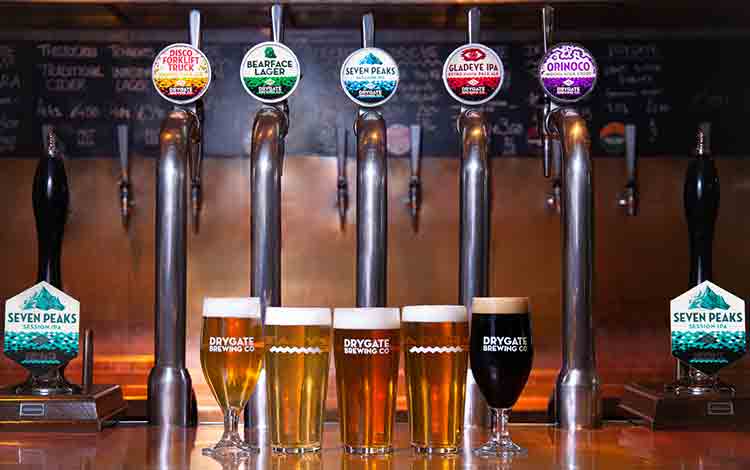 Glasgow's Drygate Brewing Co has unveiled a new chapter, with a fresh new brand and product offering. The move comes alongside a refocused vision to deliver fresh, sessionable and engaging beers to better serve today's beer market.
Five years after launching their business in the historic heart of Glasgow's East End, the brewery has revealed a new unified identity across its products and venue branding. The striking new branding features geometric designs and bright flat colours which celebrate the scientific, precise, and human side of brewing. The flexible new design methodology extends beyond the core range, and into the incorporation of photography and typography, accompanied by the revised Seven Peaks motif.
With "open doors and open minds", Drygate continues to champion its ethos of promoting creativity and collaboration – which have been at the heart of the brand since launching in 2014 – by committing to work with artists, and creators of all types, on small batch beers. In addition, Drygate will be kick-starting a sponsorship programme later this year, to further strengthen its ties with the artistic community.
The new product offering sees the core range, and more recent Studio range, combined to include five of its most successful beers to date; Gladeye IPA (5.2% ABV), Bearface Lager (4.4% ABV), Disco Forklift Truck (5.1% ABV), a Mango Pale Ale, and Orinoco, the brewery's award-winning Mocha Milk Stout (6% ABV). Finally, Seven Peaks, previously produced at 5% ABV, has become a 3.9% Session IPA and remains the brewery's flagship product. Following the consumer trend of low-alcohol beers, Shred, a 0.5% ABV orange-infused pale ale, will be added to the range in 2019.
The Studio range brews, Crossing the Rubicon West Coast IPA and Chimera India Pale Lager, will move into the new Draft Picks range. This exclusive series of draft-only beers is available from the brewery's restaurant & tap room, and from selected retailers. Of the original product line-up, Ax Man Rye IPA will become a seasonal-only brew, while Outaspace Apple Ale will be discontinued.
Matt Corden, Managing Director at Drygate Brewing Co, said: "We feel that to continue to compete in today's crowded market, it is crucial that our range is recognisable and coherent. We've always had exciting and bold branding, but it was important to us that our range felt like a family as we move forward. Five years of business felt like the perfect time to take a step back and develop a new look that represents Drygate as it stands today."
Drygate's Creative and Marketing Director, Rob MacKay, added: "Many breweries use organic, hand-drawn or textured design features to sell beer as a natural product, but beer doesn't exist without human intervention. Beer is part nature, part art, and part engineering.
"A lot of brewers play down that beer is designed and produced as precisely as possible using industrial-looking kit, or that the brewery is built and maintained by engineers. We are a distinctly urban brewery, located in Scotland's biggest city – a long-standing centre of design and engineering – so we decided to go in the opposite direction with our style.
"To coincide with the new look and reiterate our commitment to the creative community, we will launch a Convergence Series which will showcase our Drygate collaborators and introduce them to new audiences – the driving ethos behind our company. Continuing to build great relationships with creators of all types, on an ongoing basis, we'll be teaming up with other brewers, writers, comedians and bands, and whenever possible we'll also invite a designer, photographer or illustrator to collaborate on the artwork."
Drygate's on-site bar and kitchen is also rebranding as Drygate Brasserie which will put beer pairing at the fore with the aim to deliver an unmatched customer experience. Operations Manager, Neil Park, said: "Our style of food has evolved over the years, but what has remained consistent is our love of combining food and beer. By renaming our bar & kitchen, we're giving a nod to the traditional French brasserie; a place where beer is brewed and served fresh alongside classic dishes such as steak frites and mussels, in a relaxed and informal atmosphere."
Drygate's rebrand and range changes are live now, with new products, new assets, and venue branding switching to the revised designs immediately, while bottle and can designs will be phased in over the coming months. The new core range is available to purchase from Drygate's website, and various supermarkets and bars nationwide.